Step 6: More options
Black and white slide images in handout: Tick this to create grayscale image of the slide on the handout instead of the default color mode. This setting is ignored if you are using a LDT. The black and white setting for thumbnail has to be set in the LDT itself by creating a image placeholder and set it for black and white mode. To learn how to create black and white slide thumbnails in a LDT click here.
Omit background graphics from master: To omit background graphics and shapes which are present on slide or title master tick this. Now, when the thumbnails are created the shapes present on the masters will not appear.
Footer: Set the footer for the create handout. If you are using a LDT and if the template already has some text in the footer then this text will be appended to it.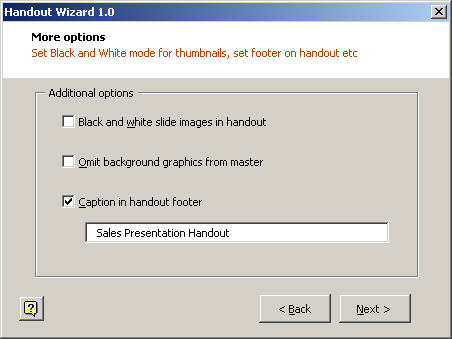 « Previous || Next »